Announcements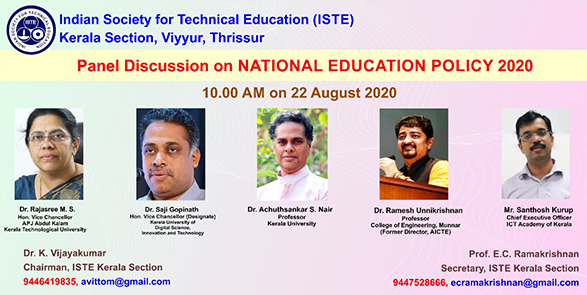 Use this Link for Registration:
https://forms.gle/D1kmu9QVJP1ZDkMY8
27th Annual State Convention and Seminar of the ISTE on our campus at ULLIYERI, KOZHIKODE
The theme for the seminar broadly, as prescribed by the ISTE HQ, is ' Make in India ' Date 19th Nov 2016
Click here to download Brochure...
" ISTE 16thStudent annual national convention2013"
Student Convention 2013 Poster...
Student Convention 2013 Brochure...
Student Convention 2013 Sponsorship Details...
Annual Student Convention: 12 th Annual Convention of Student Chapters, August 16-17, 2013 TKM College of Engineering, Kollam. Click here for details....
12 th Annual Convention of Student Chapters Report
Annual
Convention:
24 th Annual Convention, November 2013, HEERA College of Engineering and Technology, Trivandrum
Past Conventions
23rd State convention : SSM Polytechnic College Tirur, 17th November 2012. Download Borchure...
11th Annual Student Convention: Govt. Engg. College, Thrissur on 6th-7th September 2012.
ISTE Kerala State Conventions
Vidya Aacademy of Science and Technology, Thrissur, 19 Nov 2011.
21st ISTE Annual convention at St. Joseph's Collge of Engineering & Technology, Pala on 20th November 2010.
Student chapter Conventions
Govt. Polytechnic College Kalamassery (Ecotech 2011) 23-24 September 2011.
Mohandas College of Engg and Technology, Nedumangad, 2010.
2009 STUDENT CHAPTER STATE CONVENTION HOSTED BY GEC THRISSUR